Gutenberg Labo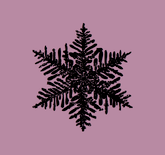 Japanese font foundry committed to making open license fonts based on old prints. It is run by Judicare and Eunice. Fontspace link. The fonts:
GL SnowBentley (2018). Snow crystals after photographs by Wilson A. Bentley.
GL Morris (2017-2018). After William Morris's blackletter typeface Troy Type (1891-1892).
GL-MahjongTile (2009). In 2018, they added a color SVG style web font called GL-MahjongTile-Clr.
GL-Grimoire-MajKey and GL-Grimoire-MinKey (2007-2009). The former is from the medieval grimoire "The Greater Key of Solomon" (font for the Sacred Pentacles). The latter is from the medieval grimoire "GOETIA The Lesser Key of Solomon" (font for the medieval grimoire "GOETIA The Lesser Key of Solomon").
GL-Runen (2007-2009): Elder Futhark runes.
GL-Nummernschild-Mtl and GL-Nummernschild-Eng (2009): German license plates typeface (FE-Mittelschrift, FE-Engschrift). The original goes back to Karlgeorg Hoefer.
GL-DancingMen (2007-2009): Cipher from "The Adventure of the Dancing Men", The Return of Sherlock Holmes by Arthur Conan Doyle. See also GL Dancing Men Org (2017-2018).
GL-Suetterlin (2008): German formal blackletter-inspired handwriting taught in schools for some time. Renamed GL German Cursive in 2018.
GL-Antique (+GL-AntiquePlus) (2002-2017): Japanese antique style font containing kanji, hiragana and katakana. These fonts are quite complete and contain hundreds of dingbats, arrows, and symbols.
The GL-Tsukiji family (2008-2009): hiragana and katakana fonts from the Meiji era type foundry Tokyo Tsukiji Kappan. Open Font Library link.
GL Otomanopee (2006-2007 and 2017-2018). Hiragana and katakana.
Sourceforge link.
EXTERNAL LINKS
Gutenberg Labo
Fontspace page
MyFonts search
Monotype search
Fontspring search
Google search

INTERNAL LINKS
Sites with only a few free fonts ⦿ Type design in Japan ⦿ Dingbats (original) ⦿ Rune fonts ⦿ School fonts ⦿ German type scene ⦿ Map/Travel dingbats ⦿ Snowflake fonts ⦿ Blackletter fonts ⦿ SVG typefaces ⦿