Morganismi [Heikki Morgan Hämäläinen]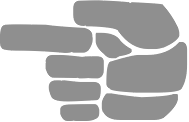 Morgan (whose real name is Heikki Juhani Hämäläinen) is an artist and gardener in Finland who was born in 1963 in Pälkäne.
In 2010, he founded Morganismi (in Finland's Sysmä), and created the children's hand Morganshand, the petroglyph font Rock Painting, the retro futuristic typeface 2010 Outta Space (2010), and the insult-inspired dingbat typeface 1HarshLanguage. Morganismi (2010) is a primitive human alphabet. Kauhaatos (2010) is a scary gothic face. Fraught (+Icons, which includes some fists) (2010) is a rough hand-printed stencil face. Curser (2010) is an old typewriter face.
Morgothick (2011) is described as follows: Morgothick is an ugly not-so-decorative blackletter font, hand-drawn like straight from the dark Middle Ages of drunk monks and dim chambers.
Riipale (2012) is a font family with two sets of hand-drawn characters.
Typefaces from 2013: However (ransom note font), Alph Deco (art deco outline font), Seriffi Morgan (an antiqued roman typeface).
Typefaces from 2014: Snow Now.
In 2015, Morganismi published the handcrafted typeface Nippon.
Typefaces from 2016: Circus Minimus Pulex (+Icons).
Typefaces from 2017: Sulawesi (an adventurous font imitating old map styles), Sulawesi Kuwa (dingbats).
Typefaces from 2018: Ruutu (a funny faces font).
Typefaces from 2021: Pandemizing (a COVID-themed alphabet).
Typefaces from 2022: Alternasci (emulating medieval manuscript text, +Alchemia, +Magia, +Picturae dingbats; the upper case of Magia is the so-called Theban or Witch's Alphabet).