Indra Kupferschmid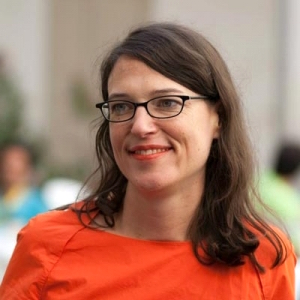 German type personality (b. 1973, Fulda) who studied visual communication at the Bauhaus University in Weimar. She is involved in type at the Museum für Druckkunst Leipzig and in the DIN committee for type classification. Founder of Kupferschrift, a type expertise firm based in Weimar and Düsseldorf. Alternate URL. She is a professor of Kommunikationsdesign und Typografie and head of the department FB Design at the HBK (Hochschule der Bildenden Künste) Saar. She researches the classification of typefaces, the history of grotesks and legibility.
She is co-author of Helvetica Forever (Lars Müller Publishers) and Buchstaben kommen selten allein, a typographic reference book.
Speaker at ATypI 2011 in Reykjavik. Speaker at ATypI 2013 in Amsterdam. At the latter meeting she introduces Type Record, a data base on typefaces run by her and Nick Sherman. Speaker at ATypI 2016 in Warsaw. Speaker at ATypI 2017 Montreal.
EXTERNAL LINKS
Indra Kupferschmid
MyFonts search
Monotype search
Fontspring search
Google search

INTERNAL LINKS
Type personalities ⦿ German type scene ⦿ Bauhaus and type design ⦿ Readability & Legibility ⦿ DIN ⦿ Books on type design ⦿