Rafael Ferran i Peralta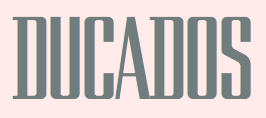 Catalan creator, b. 1964, of these typefaces:
Gamaliel (2010, Open Font Library), a blackletter face. This was part of his project at the Universitat Oberta de Catalunya. The type is based on the gothic letters used by the Barcelonese printer Joan Rosembach in 1496.
Costa Rica (2015). A squarish typeface.
The condensed typeface Ducados (2015). Ducados is based on the old label of "Ducados", a spanish dark tobacco which Rafael used to smoke. Free at Open Font Library.
PDW (2017). A crazy mix of letters for maximal impact on posters. Well done!
Auca (2018). A hand-drawn old serif typeface.
MiTica (2020). An informal font based Central Type Foundry's Quaint Roman.
EXTERNAL LINKS
Rafael Ferran i Peralta
Dafont page
Klingspor Museum page
MyFonts search
Monotype search
Fontspring search
Google search

INTERNAL LINKS
Type designers ⦿ Type designers ⦿ Blackletter fonts ⦿ Type design in Catalunya ⦿ Sites with only a few free fonts ⦿