Love Letters [Sebastien Sanfilippo]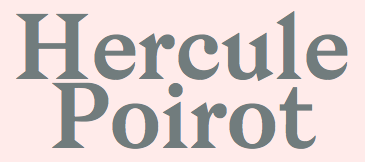 Sebastien Sanfilippo founded Love Letters in Brussels, Belgium, under the motto Single-handedly drawing letters for world peace. He designed these open source typefaces:
Reglo (2009). Free at OSP and at Open Font Library).
Bagnard (2016). A wedge serif typeface inspired by the graffiti of an anonymous prisoner of the Napoleonic wars. The sans serif version, Bagnard Sans (2016), was developed jointly by Sebastien Sanfilippo, Doug Thomas, Chris Fodge and May Kim. Github link.
Cotham Sans (2016). A grotesque typeface. Github link.
Grotex (2018).
Kvetch (2018): Monospace extended is the new reverse contrast. Kvetch is named after the Yiddish word for being a pain in the you know what. Initially started as a bit of a joke, this monospaced and extended typeface combines two unlikely ideas. Brutish but with calligraphic roots, Kvetch is Frankenstein in a ballerina costume. A commercial font family.
Agrippa (2019). A playful ultra-fat stencil typeface.
Blimey (2019). Intended to become a 2-axis variable font, Blimey is inspired by art nouveau and psychedelia. Variable font version. Future Fonts link.
Mint Grotesk (2019) and its sturdy, no-nonsense sans-serif companion, Mint Book (2022).
Tatras and Tatras Shaded (2021). These typefaces pay homage to eastern European design and its socialist heritage. The typeface takes its inspiration from the lettering that is emblematic of mid-century design in Hungary, Poland, Czechia, Slovakia and the Balkans.
Behance link. Personal home page. Git repository. Future Fonts link.
EXTERNAL LINKS
Love Letters
Behance page
MyFonts search
Monotype search
Fontspring search
Google search

INTERNAL LINKS
Type designers ⦿ Type designers ⦿ The Polish type scene ⦿ Open source fonts ⦿ The Belgian type scene ⦿ Sites with only a few free fonts ⦿ Commercial fonts (small outfits) ⦿ Stencil fonts ⦿ Art Nouveau typefaces ⦿ Psychedelic types ⦿