iFontMaker [Tomonaga Tokuyama]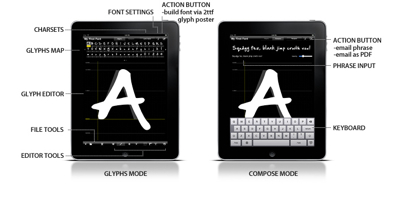 iFontMaker (2010) is a 7 dollar app for iPad that lets one make finger (truetype) fonts on the go. The developers are in Japan: Pentacom and Tomonaga Tokuyama. Review by Brian Hudson. Another review. Rina Miele's review. Examples.
Born in 1984, Tomonaga studied in Kyoto and is an artist and self-taught programmer.
A gallery of free fonts made with the software:
Looking for an author? Replace the %s string in this URL by the name. Showcase.
EXTERNAL LINKS
iFontMaker
MyFonts search
Monotype search
Fontspring search
Google search

INTERNAL LINKS
Font creation programs ⦿ Japanese type design ⦿ Handwriting fonts ⦿ Dingbats (original) ⦿ Sites with only a few free fonts ⦿ iFontMaker fonts ⦿ Type news ⦿