Webtype [Petr van Blokland]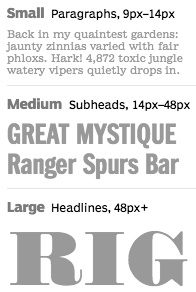 Webtype opened its doors in August 2010. It is a web font service headed by Font Bureau (David Berlow), with support from Ascender (and their Microsoft and Monotype collections), Petr van Blokland, Roger Black, and a web development company called DevBridge. The arguments David Berlow uses in his press release include (1) The availability of Font Bureau's RE (or: Reading Edge) fonts, which have been optimized for on screen use, (2) The expert hinting by Ascender's Tom Rickner, (3) A pay model that depends upon traffic, (4) The possibility of obtaining customized web fonts.
Webtype comments: The quality of the type seems to be fine. I think that in their pricing, they underestimated the traffic level by a factor of ten, which will end up costing users a lot of money. I explain. Let's say that you have about 600,000 unique visitors per month. At 18GB monthly traffic---their basic pricing level for that number of unique visitors---, individual fonts cost 100k per year and up. If each unique visitor looks at only 3 pages, each containing one font (assumed to take 10k worth of space, as a lower bound---it is usually much more), then we are looking at 18GB monthly traffic. So, any additional traffic (several fonts per page, more active unique visitors, and traffic from repeat visitors) will easily bump up the bill because additional traffic above 18GB is linearly priced. The pricing improved slightly in 2011. For a million pageviews, one starts paying about 160 dollars per year. Pricing will be in flux because I have a feeling that we will see Chinese and Indian web type operations at a fraction of the prices now shown---in fact, we have seen nothing yet.
EXTERNAL LINKS
Webtype
MyFonts search
Monotype search
Fontspring search
Google search

INTERNAL LINKS
Web fonts ⦿