Fontwala (was: Hindi Rinny) [Erin McLaughlin]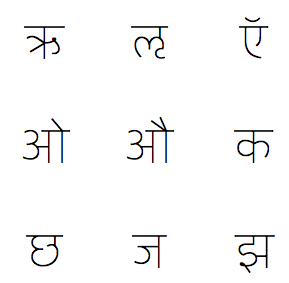 Hindi Rinny is a great Indian type blog and news place run by Erin McLaughlin (b. 1985), a graphic designer in Wichita, KS (and before that, Minneapolis, MN). After graduation from the type design program at the University of Reading in 2010, she joined Hoefler&Frere-Jones in New York. Erin has worked with independent foundries Frere-Jones Type, Universal Thirst, TypeTogether, as well as Adobe, IBM, Microsoft, and Google.
She designed Katari for her thesis.
Originally from Milwaukee, she received a BFA in Graphic Design from the Minneapolis College of Art & Design before her MA at Reading. Erin created an angular typeface---à la Oldrich Menhart---, and added a matching Devanagari style---the harmonious ensemble is called Katari. This typeface earned her the 2011 SoTA Catalyst award.
In 2015, she published the free Google Web Font typeface Khula for Latin and Devanagari. The Latin is based on Steve Matteson's Open Sans. GitHub link. Still in 2015, she published the useful free Devanagari typeface family Yantramanav at Google Web Fonts, to accompany Christian Robertson's Roboto. Adobe Kannada was also designed in 2015---the Latin part of that font was by Robert Slimbach.
Typefaces from 2016 include Hubballi (a free monolinear typeface for Kannada; Google Fonts link).
In 2019, she aided with the Devanagari part of the free Google Fonts typeface IBM Plex Sans Devanagari (by Mike Abbink, Paul van der Laan, Pieter van Rosmalen, Erin McLaughlin).
In 2021, Erin McLaughlin and Wei Huang developed the traditional workhorse sans serif typeface Tenorite for Microsoft for use as one of the default fonts in Office apps and Microsoft 365 products. Elements such as large dots, accents, and punctuation make Tenorite comfortable to read at small sizes on screen.
In 2020, she published BhuTuka Expanded One at Google Fonts. BhuTuka Expanded One, originally designed in 2017, is a Gurmukhi companion to Aoife Mooney's BioRhyme Expanded Light typeface.