Jorge León Dumpierrez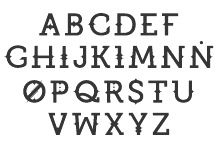 Born in 1987 in Las Palmas de Gran Canaria, this graphic designer worked in Bacelona for two years at Folch Studio and Clase BCN. Today, he lives in the Canary Islands.
He created Foster (2010, a didone italic) and the display typefaces Joker Serif and Joker Slab Serif (2010). Tauromaquia (2012) was inspired by bull fights. Futura and medieval symbology influenced Jorge in the creation of the alchemic typeface Avariciya (2013). Tiempo (2013) is a Peignotian sans.
EXTERNAL LINKS
Jorge León Dumpierrez
Behance page
MyFonts search
Monotype search
Fontspring search
Google search

INTERNAL LINKS
Type design in Catalunya ⦿ The Spanish type scene ⦿ Type designers ⦿ Type designers ⦿ Modern style [Bodoni, Didot, Walbaum, Thorowgood, Computer Modern, etc.] ⦿ Typefaces for alchemy ⦿