Esos tipos de la UTEM [Roberto Osses]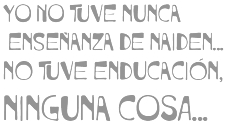 Chilean type foundry and blog (in Spanish) which grew out of the Escuela de Diseño de la Universidad Tecnológica Metropolitana de Santiago de Chile. The team consists of Roberto Osses (the boss), Javier Quintana (type designer), Fabian Flores and Sebastian "Sea" Contreras. Roberto Osses is professor of digital type design at UTEM. He wrote MANIFIESTO, La Declaración Universal de los Derechos Humanos Ilustrada and has won several graphic design awards. The fonts are free. The font list:
By Rodrigo Valenzuela: Maipo (2009, a precolombian native face), La Vega Fraktur (2008).
By Fabian Flores: Miliciana (2008), a militant poster face.
By Ariel Martinez: dfdDefensa (2009), a gothic angular face.
By Jonathan Vivanco: The Go Font (2008), an ultra fat credit card face.
By Sebastian Contreras: Basural (2008, grunge).
By Santiago Toro: Nahueltoro (2007), an exceptionally beautiful comic book style headline face.
By Matias Quiroz: dfdCanibalisma (2007), described as a font for zombies.
By Daniela Martinez: Lastarria (2007), a curly ornamental face.
By Felipe Vicencio: Chasquilla (2007), a graffiti face.
By Mariana Sanchez: Animita (2007), an organic hand-printed face.
By Macarena Budin: Selfish Jean (2008), a condensed headline sans with some contrast.
By Macarenna Rocco: Revolucionaria (2009), a strong slab serif face.
Biblioteca (2015) by Roberto Osses, Cesar Araya, Patricio Gonzalez and Diego Aravena won an award at Tipos Latinos 2016.
EXTERNAL LINKS
Esos tipos de la UTEM
MyFonts search
Monotype search
Fontspring search
Google search

INTERNAL LINKS
Type blogs ⦿ The Chilean type scene ⦿ Sites with only a few free fonts ⦿ Blackletter fonts ⦿ Comic/cartoon fonts ⦿ Horror fonts ⦿ Graffiti fonts ⦿ Curly typefaces ⦿