Italian penmanship and calligraphic teaching books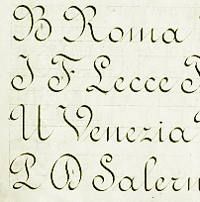 Nice set of articles by Gio Fuga on some Italian penmanship books from the late 19th and 20th centuries---see also here and here. He discusses
Modello di Calligrafia---Metodo La Manna (Prof. Francesco La Manna 1947-1948, Casa Editrice Carlo Signorelli di Milano).
Modelli di Calligrafia (Prof. Primo Scapellato, 1953, Casa Editrice Giuseppe Principato di Milano).
Stile---Corso di bella scrittura (Enrica Magenta Piatti and Sergio Franchini, 1950s).
La Calligrafia nelle Scuole medie (Prof. Angelo Mona).
Modelli di Calligrafia per le Scuole Medie. Metodo Lamanna (approvato dal Ministero della Pubblica Istruzione) (Prof. Cav. Francesco La Manna). La Manna worked at the Reale Scuola tecnica Bonaventura Cavaliera di Milano. [Sample of the Metodo La Manna.]
Metodo razionale di calligrafia, ad uso delle scuole tecniche, normali, complementari, commerciali e degli aspiranti al diploma di calligrafia (1921, Prof. Tullio Giaconi edited in Livorno by R. Giusti).
Metodo di Calligrafia (1938, Prof. Gaetano Filosa). Other publications by Filosa include Trattato di calligrafia (1904, Litografia Democratica), Corso completo di calligrafia, per le scuole medie, professionali, commerciali e militari (1911), L'arte calligrafica nelle scuole medie: Raccolta di prospetti, intestazioni commerciali e composizioni calligrafiche (1913, Tipografia G. Federici), and Metodo di calligrafia (1958, ed. A. Garzanti).
Modello di calligrafia (1899, Eliodoro Andreoli, Milano). Andreoli was a renowned calligrapher.
La Calligrafia. Metodo teorico pratico (Prof. Giovanni Tonso). Tonso taught at Regio Istituto Sommeiller and at la Scuola Lagrange di Torino at the end of the 19th century. This book is not just about teaching calligraphy---it also covers writig for professionals, for the industry, the government and schools, and is a comprehensive manual on penmanship.
Il bello scrivere. Studio completo di calligrafia svolto con i più moderni sistemi e con procedimento teorico, pratico, nazionale (Giuseppe Ferrini, ca. 1902). This is a series with instructions for English, gothic (blackletter), Lapidary, Aldine, and Rotunda. Samples: i, ii, iii.
Calligrafia Moderna (Prof. Nicola D'Urso): this was used in high schools and graphic arts schools. [Sample of scrittura italiana, and of scrittura rotonda.]
La Calligrafia per le Scuole Medie. Metodo teorico-pratico diviso in 15 quaderni (Antonio Agostini): published in the early part of the 20th century in Treviglio, this book won a silver medal at the Fifth Esposizione Internazionale di Roma in 1903.
Manuale di Calligrafia per uso delle classi elementari (Cav. Michele Favaloro, Palermo).
The didactical worksof Bologna-based Fausto Saggiotti such as Esemplare di scrittura con massime di ben vivere per uso delle Scuole tecniche e normali (1882, Litografia G. Wenk, Bologna), Metodo per apprendere con facilità l'arte dei contorni per saggi di calligrafia, disegni, ecc. (1888, Stab. Litografico F. Barbieri, Bologna), Metodo di calligrafia (1888, Lit. G. Wenk, Bologna).
Metodo teorico---pratico illustrato (Prof. Giovanni Mundici, Società Tipografica Modenese). Sample of calligrafia inglese.
Metodo Teorico Pratico di Calligrafia (Prof. Ettore La Creta, Libreria Editrice Baroni, Lucca).
Metodo Cobianchi (Pietro e fratelli Cobianchi, Intra).
Metodo di calligrafia per le scuole elementari (Carlo Rossi). This book series was approved in Udine in 1878 and used in Friuli.
Metodo di Calligrafia (1889, Torello Bianchi): used in Umbria.
EXTERNAL LINKS
Italian penmanship and calligraphic teaching books
MyFonts search
Monotype search
Fontspring search
Google search

INTERNAL LINKS
Type design in Italy ⦿ Penmanship ⦿ School fonts ⦿ Rotunda / Rundgotisch ⦿ Lapidary typefaces ⦿ Military typefaces ⦿