Agfa -- Monotype Sackers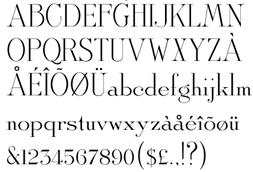 The Sackers family (Monotype, and before that Agfa) is a vintage typeface family. Its members:
As a whole, this is an elegant but curious collection. There are few clues as to its origins, which may be a bit louche because we can easily recognize Engravers Gothic in the Sackers Gothic, for example. All typefaces look like they originate in the 19th century, and started probably out as engraved (copperplate) lettering.
View the sackers typeface family. See also here.
EXTERNAL LINKS
Agfa -- Monotype Sackers
MyFonts search
Monotype search
Fontspring search
Google search

INTERNAL LINKS
Typography ⦿ Calligraphic typefaces ⦿ Copperplate ⦿