VSF (or: Vasil Stanev Foundry) [Vasil Stanev]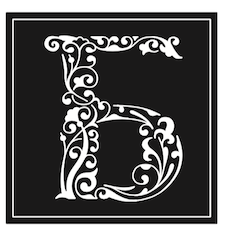 Typographer and type designer in Sofia, Bulgaria, b. 1982, Sofia, who worked mostly for Svetoslav Simov's type foundry, Fontfabric, before setting up his own shop, VSF (Vasil Stanev Foundry).
In 2010, he made the ornamental all caps Cyrillic typeface Orthodox. In 2011, he created the ornamental caps typeface Floralis (which was finished by Svetoslav Simov) and the experimental typeface Negativ.
In 2012, he made Times New Roman Sans Serif.
Nexa Rust is a set of 83 weathered letterpress emulation fonts that evolved from Nexa and Nexa Slab. This was a project by Radomir Tinkov, Ani Petrova, Svetoslav Simov and Vasil Stanev.
In 2016 and 2017, he designed the mythological typefaces Bugazoo Letterbat and Etymonster, respectively.
Typefaces from 2017: Combax (rounded sans), Tengwar Sindarin Latin and Cyrillic, Hel Grotesk Gothiq Cyr (a cyrillization of Kevin Yuen Kit Lo's Hel Grotesk), Celtic Cyr, Jardin Ornatis (decorated caps).
Typefaces from 2018: Crona, Etymonster (a letterbat font), Mistnake (Halloween dingbats), Ergam, Cloch, Ufont (an aliens font), Needlephabet, Ornatis (a floriated caps alphabet for Latin, Cyrillic, Armenian and Hebrew).
Typefaces from 2019: TDR (a heavy octagonal / mechanical typeface), Talljob, Moxic, Allebagra, Beejuice, Beltenebros, Pepo The Clown, Plump Fiction, Spartechno.
Typefaces from 2020: Coque (a tall extra compressed font family).