Alexey Malkov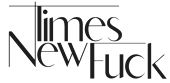 Graphic designer from Kiev, Ukraine. He created the geometric typeface Midnight (2010), which was inspired by Herb Lubalin. Switch Connect (2011) is a high contrast art deco face. Lighter (2011) is a techno typeface that cries speed. Times New Fuck (2011) is a Peignotian sans with stiletto terminals on some glyphs. Blamed Neverland (2011) is a connect-the-dots avant-garde display face. Vampire (2011) is a gothic octagonal face. Geometria (2011) is a minimalist straight-edged face.
Typefaces from 2019: Beast (a sharp-edged and pointy humanist sans), ALS Hauss (a Bauhaus sans family, released by Art Lebedev), Wagon (at art Lebedev: Wagon is a low-contrast closed neogrotesque typeface with static proportions and expressive decorative elements. It is a good rough, technological and industrial typeface, perhaps useful for signage on trains).
Typefaces from 2020: Span (at Art Lebedev Studio). He writes: Span is a family of variable typefaces combining the traditional shapes of block antiquas of the 19th century with the geometry of modern digital type. Span is based on the cult typefaces of the era, Clarendon and Century Schoolbook.
EXTERNAL LINKS
Alexey Malkov
Behance page
MyFonts search
Monotype search
Fontspring search
Google search

INTERNAL LINKS
Avant Garde typefaces ⦿ Type designers ⦿ Type designers ⦿ Type design in Ukraine ⦿ Art deco typefaces ⦿ Horror fonts ⦿ Octagonal typefaces ⦿ Connect-the-dots typefaces ⦿ Cyrillic type design ⦿ Clarendon ⦿ Bauhaus and type design ⦿