Typisch Beton [Benjamin Buchegger]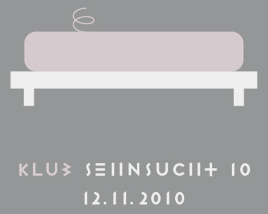 German design blog run by three designers from Vienna. Alternate URL in which type design is the main topic. Their names and typefaces:
Benjamin Buchegger. Designer of Janosch (2011) and Pharmacia Text (2011). Janosch is asymmetrically serifed and very readable.
Oliver Hofmann. Designer of Elevador (2010, a tall condensed sans face) and Pharmacia Head (2011).
Daniel Car. He is working on Ziegel Mono.
The Klub Sehnsucht flyer uses Hoefler's minimalist poster typeface Gestalt.
EXTERNAL LINKS
Typisch Beton
MyFonts search
Monotype search
Fontspring search
Google search

INTERNAL LINKS
Type blogs ⦿ Type in Austria ⦿ Commercial fonts (small outfits) ⦿ Type designers ⦿ Type designers ⦿