Intelligent Design (was: Intelligent Foundry) [Kostas Bartsokas]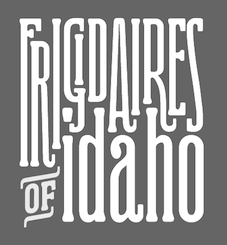 Kostas Barstokas is a designer and illustrator in Thessaloniki, Greece, and in Leeds, UK. He set up Intelligent Foundry and later Intelligent Design in Leeds. He graduated from the MATD program in Type Design at the University of Reading in 2016. He worked as a senior typeface designer at URW in Hamburg and offered consultation in Greek script design for other foundries too. In 2021, Kostas Bartsokas, Mohamad Dakak and Pria Ravichandran set up Foundry 5 Limited.
In 2011, he used FontStruct to make the counterless typeface UglyKost.
In 2012, he created Kafalan Serif, a square-serifed typeface, and the accompanying Kafalan Sans, which are both available from Ten Dollar Fonts.
Typefaces from 2013: Zona Black (a Latin-Greek geometric sans-serif black display typeface that was inspired by posters from the late 1920s), Zona Black Slab.
In 2014, still in the same style, we find Zona Pro in weights from Hairline to Black. Ridewell (2014) is a wood type inspired 1800-glyph typeface with many opentype features including foremost interlocking pairs of characters. It comes with Ridewell Print, which emulates the degradation of letterpress.
In 2015, he designed the geometric sans typeface family Averta and Averta Standard. Averta CY won an award at Granshan 2017 in the Cyrillic category.
He writes about his University of Reading graduation typeface, Eqil (2016): Eqil is a multiscript type family for extensive texts. It is conceived as a typographic system wise enough to respond to complex publishing challenges. It consists of a range of styles and its quiet personality transforms and gets louder as the intended sizes increase. Eqil identifies as an elegant contemporary take on transitional types. It does not intend to be a showstopper, instead it aspires to be the lever that silently elevates the content. The combination of straights and curves creates a dynamic yet fluid character and the relatively low contrast gives it a slightly dark and warm texture on the page. The four scripts, Latin, Arabic, Cyrillic, and Greek, were designed to work harmoniously together without compromising each scripts historical and individual characteristics. Eqil won an award at Granshan 2016 in the Latin / Cyrillic category.
His super-fat free typeface Oi (2017) is described as a Clarendonesque on steroids. Commercial version of Oi!. Oi won an award at TDC Typeface Design 2018. In 2021, it became a free Google font. Github link.
His big project in 2019 is the free 4-axis (weight, slant, flair, volume) variable font Commissioner. Google Fonts link. He writes: Commissioner is a low-contrast humanist sans-serif with almost classical proportions, conceived as a variable family. The family consists of three voices. The default style is a grotesque with straight stems. As the flair axis grows the straight grotesque terminals develop a swelling and become almost glyphic serifs and the joints become more idiosyncratic. The volume axis transforms the glyphic serifs to wedge-like ones. It supports Latin, Greek and Cyrillic. For an extension, see Heraclito (2020).
Co-designer of Peridot Latin (2022: a 121-strong sans superfamily by Kostas Bartsokas and Pria Ravichandran) and Peridot PE (2022: a 121-style sans superfamily by Kostas Bartsokas and Pria Ravichandran designed for branding, display, corporate use, editorial and advertising; it covers Latin, Greek and Cyrillic).
Buy at Ten Dollar Fonts, Hellofont, Creative Market, or MyFonts.