Cornelis André Vlaanderen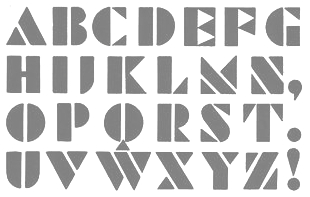 Despite his name, André Vlaanderen was a Dutch designer, 1881-1955. He drew several alphabets, such as Moderne Schabloonletter (1933, a geometric stencil), and Silhouetteletter (1933, a counterless geometric solid art deco face).
Digital revivals:
Vlaanderen NF, Vlaanderen Chiseled NF, Vlaanderen Round NF, Vlaanderen Square NF, all by Nick Curtis. These free fonts are based on an untitled work by André Vlaanderen from 1928.
F37 Xan (2010, Rick Banks, F37). Based on a 1925 design by André Vlaanderen.
Eutopia (2015, Victor Navarro Barba), based on an original from 1928 in the geometric solid genre.
EXTERNAL LINKS
Cornelis André Vlaanderen
MyFonts search
Monotype search
Fontspring search
Google search

INTERNAL LINKS
Dutch type design ⦿ Art deco typefaces ⦿ Type designers ⦿ Type designers ⦿ Stencil fonts ⦿ Geometric solid typefaces ⦿