Polka Design -- Letterfontein [Joep Pohlen]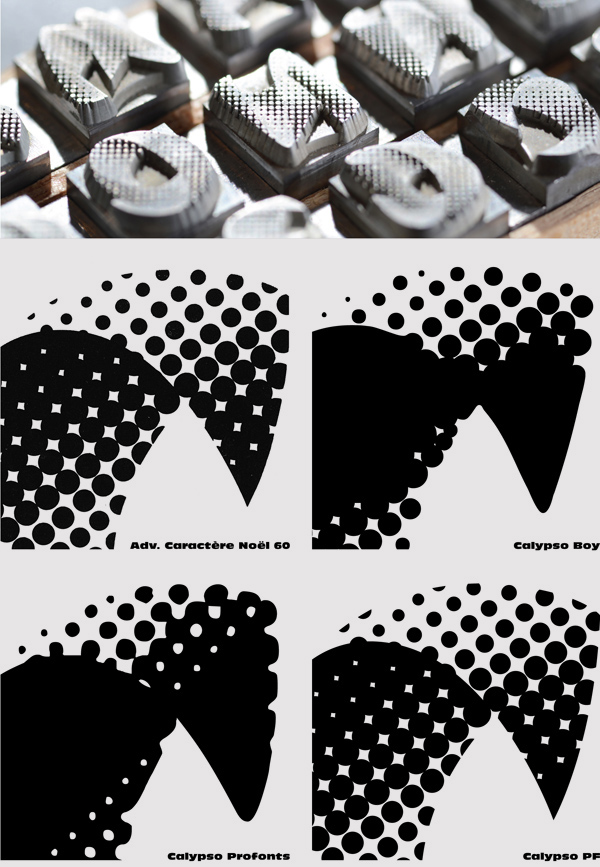 Polka Design is a Dutch book design, graphic design and publishing house, run by Joep Pohlen, Dennis Schmitz and "Egor". Joep Pohlen (Roermond) and Geert Setola published Letterfontein (1994). Joep writes: We printed about 15,000 copies. In 2002 I began rewriting and expanding the book. Geert Setola did not take part anymore in this huge job where the content went from appr. 15,000 words to 150,000 words. The first Dutch print in november 2009 was sold out in a couple of weeks and in march 2010 the reprint appeared. In 2010 Letterfontein got also a red dot award and a certificate for high design quality form the Type Directors Club New York (TDC). It took about a year to get it well translated in the different languages for Taschen Publishers. For the English version we asked John A. Lane to proofread it. For the Spanish version Albert Corbeto did the proofreading. So, the other language versions: Letter Fountain (2011), Fuente de Letras (Sp), La Fontaine aux Lettres (Fr) and Letterfontäne. A new edition appeared in 2011.
In 2013, Pohlen designed Calypso PF, a free version of Roger Excoffon's Calypso, ad quite different from all existing digital versions. He explains: Most of the typefaces ever made have been digitized. Calypso was no exception. I found and downloaded Calypso Boy from Scootergraphics (digitized by Marty Pfeiffer, 1997) and Calypso by Profonts (digitized by Ralph Michael Unger, 2005). Ralph Michael Unger has added numerals, a question mark, an exclamation mark, ligatures and a lot of other useful characters, making it a complete digital font. By comparing the capitals I saw that they where quite different and it seemed to me that they were based on the Calypso silkscreen-printed rub down Letraset version because the dots were not round like on the original drawings I had seen in several publications and advertising for this typeface. Of course the original drawings were also not exactly the same as the metal type. As earlier written the punches that were cut by the Benton pantograph were retouched and because of that there were differences compared with the original drawings. So the final design had to be found in the actual cast type. I went looking for this type and found the site of D. Stempel GmbH that got the original matrices of D. Stempel AG and all the takeovers Stempel made during their existence. One of them was Fonderie Olive. I ordered a set of newly cast type from the original Olive matrices and found out that it was indeed quite different from the digital fonts that I bought. At that time Marjolein Koper was working as an intern at our design studio Polka Design and I asked her to digitize Calypso. The result was better than the fonts I bought but still I was not satisfied. After she came back to work at our studio on a steady base we photographed the metal type with a Micro Nikkor on a D800 to get the sharpest enlargement we could get. With this pictures Marjolein established the exact angle of the grid and we decided to begin again from scratch. Although it still is not an exact reproduction of the original metal type it has more detail and it can match almost the big reproductions seen in the first advertising in the French printers yearbook Caractère Noël 1957 and recent publications with original drawings.
EXTERNAL LINKS
Polka Design -- Letterfontein
MyFonts search
Monotype search
Fontspring search
Google search

INTERNAL LINKS
Books on type design ⦿ Dutch type design ⦿ Sites with only a few free fonts ⦿ Type designers ⦿ Type designers ⦿