Patrick Seymour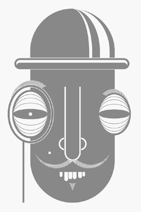 Very talented Montreal-based illustrator and digital artist. Home page. He created several modular typefaces in 2011.
In 2012, he created Muse, Gotham Streets (a prismatic typeface), Slinky, Stencil, Tulipe (counterless), Bad Billy (multilined, art deco), The Great Carnival (beveled caps), Web Font (prismatic), Jump Jump Font (octagonal), Fashion (a horizontally striped typeface), OK (prismatic), The Aviator (horizontally striped poster face), La Bonne Aventure (prismatic and slightly art deco), the rope-themed typeface Noeud Marin, the shaded boat name typeface Bleu Marine, the multiline caps typeface Origami, the moustache-inspired caps typeface Mous Type (ornamental moustache-shaped capitals), the multilined display typeface Empire, the hand-drawn Une Typo Faite A La Main, and the prismatic typeface Anabelypster. After a bout of salmonella, he created Intestino, still in 2012. In Motion (2012) is an awesome prismatic art deco typeface.
Images of his stunning work from 2011: i, ii, ii, iv, v, vi, vii, viii, ix, x.
His Cathédrale project (2011) starts from a squarish face and transforms it gradually into one that contains the features of a cathedral.
Creations in 2013: Shapes (geometric font), Gold Deco, Dentelle, Twist, Sleek (a thin slab serif), Say Say Say (multiline, prismatic, hypnotic), Metrick (a gridded typeface), Film Noir (an overlay type system), Tam Tam, Diner (a striped all caps typeface), Spot Light Font (prismatic), Flora, Bright Diamond, Incandescent, XVII (multilined display face), Konga (a multiline script), Shiny Diamond, Splash (paint font), Chicago (prismatic neon tube face), Taxi (a wonderful multiline typeface), Papale (religious symbology alphabet made to mock the papal system), Empreinte (pure op-art), Broken Arrow Font (multiline caps face), Liquid Paper Font, Sunset (prismatic), Boogie (Broadway-style art deco family), New Art Deco (prismatic art deco face), Poule de Luxe, Burnout (a prismatic typeface), Marble Maze Font, M Gagnon (ornamental caps influenced by the design work of Denis Gagnon).
FontStruct fonts: Test3 (2012), Jump Jump 2 (2012).
Typefaces made in 2014: Moiré, Decora, Magnetic, Noise (TV noise emulation), Yes (multilined font), Broderie (braided letters), SAS (multilined), Full House, Heart Font (prismatic), 1976 (inspired by the 1976 Olympic Games in Montreal), Gold (prismatic art deco typeface), Lace, Bike.
Typefaces from 2015: Detour, Allie X, Grad Font, Duct Tape, Mint Julep (bilined art deco beauty), Hourglass, Stuntman (prismatic), La Dame de Coeur (playing card font), Fog.
Typefaces from 2016: Road Free (a free prismatic font), Solitaire (card font), Joliette, Denis (named after Montreal's mayor, Denis Coderre), Montreal (a prismatic typeface based on the logo of the city of Montreal), Cherry Cola Font, Bro & Co (multilined art deco beauty), Macramee (multilined).
Typefaces from 2017: The Simple Font (sans), Le Cabinet (multilined neo deco).
Behance link. Hellofont link (for buying his fonts).
EXTERNAL LINKS
Patrick Seymour
Behance page
MyFonts search
Monotype search
Fontspring search
Google search

INTERNAL LINKS
Type designers ⦿ Type designers ⦿ Type design in Quebec ⦿ Typefaces related to origami ⦿ Prismatic typefaces ⦿ Ornamental caps typefaces ⦿ Art deco typefaces ⦿ Fashion mag typefaces ⦿ Octagonal typefaces ⦿ FontStruct fonts ⦿ Rope Fonts ⦿ Stencil fonts ⦿ Op-art Typefaces ⦿ Labyrinthine fonts ⦿ Neon tube or faux neon typefaces ⦿ Movie fonts ⦿ Bicycle-themed typefaces ⦿ Playing card fonts ⦿ Commercial fonts (small outfits) ⦿ Film noir typefaces ⦿