TDC2 Type Directors Club's Type Design Competition 2012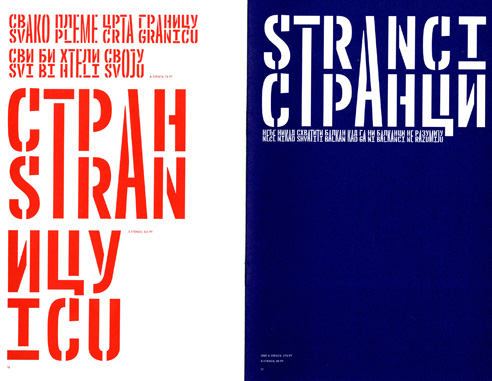 The TDC2 2012 competition's jury was chaired by Maxim Zhukov, and included Roger Black, Matthew Carter, Paul Shaw, and Erik Spiekermann. The Non-Latin Advisory Board (NLAB) reviewed all non-Latin typefaces and advised the jury. The group included: Gayaneh Bagdasaryan, Misha Beletsky, Martin Heijdra, John Hudson, Gerry Leonidas, Ken Lunde, Klimis Mastoridis, Fiona Ross, Hyunguk Ryu, Mamoun Sakkal, Taro Yamamoto, and Vladimir Yefimov (1949-2012). Gary Munch was the coordinator. The winners:
Alejandro Paul: Hipster Script.
Hélène Zünd: Chiavari.
Nikola Djurek and Marija Juza: Balkan.
Cesar Puertas: La República.
Mirjam Somers: Decotype Ruq'ah.
Octavio Pardo: Sutturah.
Underware: Mr. Porter.
Anton Studer: Rekja.
Kristyan Sarkis: Greta Arabic.
Jackson Cavanaugh: Harriet.
Ken Barber: Smidgen.
Max Phillips: Vibro.
Julia Sysmäläinen: FF Mister K Informal.
EXTERNAL LINKS
TDC2 Type Directors Club's Type Design Competition 2012
MyFonts search
Monotype search
Fontspring search
Google search

INTERNAL LINKS
Past type competitions ⦿ Hipster fonts ⦿