Vectorian [Vincent Le Moign]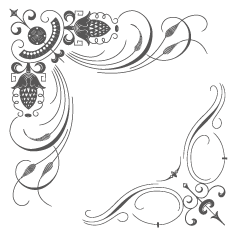 A vector ornament pack (EPS and AI formats) can be downloaded here. It was made by Vincent Le Moign from Rennes, France, who is now based in Chiang Mai, Thailand. There is an extensive set (for money) and a free sampler set. The ornaments are from George Bruce's catalog from 1882.
In 2013, he published Printer's Paradise (430 frames and 179 seamless patterns, taken directly from George Bruce's Son & Co Type Catalog (1882)) and Luxurious Flourishes (543 ornaments and 179 frames taken from Specimen Album catalog, by the Charles Derriey French type foundry (1862)).
There is also a list of links to free vintage fonts.