Raihan Nizar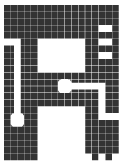 Raihan Nizar (b. 1977) is the Indonesian FontStructor who made Cubos (2011, squarish and geometric), Pixelized Handwriting (2011), Lost in Future (2011, sci-fi face), Valdero (2011), Simplicity (2011, kitchen tile face), Bold Type (2011, octagonal), Fat Cribbo (2011, gridded), Block Out (2011, in the style of the commercial typeface Pincoya), Smooth (kitchen tile face), Quadro, Minimal (geometric, gridded, almost a kitchen tile face), Zkratchy (scratchy face), Retro Mania (almost a Western face), Techno Light, Blockz, Box Building (3d outline face), Metropol (outline techno face), Space Adventure, Electric City, Cubix, Revolution, Pixel, High Volume, and Letters In The Blocks in 2011. Many of these typefaces are pixelish.
Typefaces from 2012: Dequatrion (fat stencil face), Konnekto (electrical circuit font), Devoltas, Forsid (cubist painting font), Etnis (squarish), Electro (counterless and octagonal), Mr. Ken (very fat face), Squadlest (squarish), Neonize (dot matrix face), Simplicity (kitchen tile face), Sound System (squarish), High Volume, Bajaj Sans (gaspipe sans), Bulat (fat counterless typeface), Elektro (blocky, counterless), Elektro Forest, The Slabbers (Egyptian), Kotakisme (counterless and geometric), Bhekhathe (thin geometric typeface), Insomnia, Siliko (metal band logo font), Motakku (labyrinthine, op-art).
Typefaces from 2013: Yamko Rambe Yamko (alchemic typeface), Farmhand Script (poster script), Luikeza, The Ugly Script, Gerobak (fat, counterless).
Aka cablecomputer. Fontspace link. FontStruct link.
EXTERNAL LINKS
Raihan Nizar
Dafont page
Fontspace page
MyFonts search
Monotype search
Fontspring search
Google search

INTERNAL LINKS
FontStruct fonts ⦿ Pixel/bitmap fonts ⦿ 3D fonts ⦿ Experimental type ⦿ Western fonts ⦿ Handwriting fonts ⦿ Type designers ⦿ Type designers ⦿ Kitchen tile fonts ⦿ Octagonal typefaces ⦿ Sci-Fi fonts ⦿ Neon tube or faux neon typefaces ⦿ Type design in Indonesia ⦿ Labyrinthine fonts ⦿ Op-art Typefaces ⦿ Typefaces for alchemy ⦿ Circuit board typefaces ⦿ Gaspipe fonts ⦿