Knowles and Maxim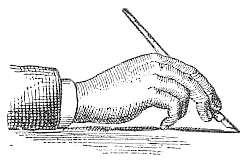 Authors in Pittsfield, MA, of Real Pen Work---Self Instructor in Penmanship (1881). Selected alphabets: Slanted Letters, Business Letters, Capitals, Ornamental Alphabet, Rustic Alphabet, German Text, Old English, Marking Alphabet, Steel Pen Capitals. Additional drawings: Fists, afish, a lion, a deer, a horse, two horses, flourished heads.
They also wrote Golden Gems of Penmanship (1884).
Digital typefaces influenced by Knowles & maxim include Holly Initials (2010, David Nalle).
EXTERNAL LINKS
Knowles and Maxim
MyFonts search
Monotype search
Fontspring search
Google search

INTERNAL LINKS
Penmanship ⦿ Books on type design ⦿ Type scene in Massachusetts ⦿ Fists, pointing hands ⦿