Franklin Gothic [Morris Fuller Benton]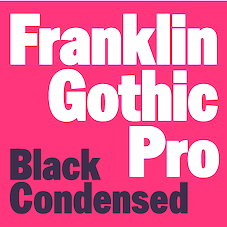 Franklin Gothic was designed from 1904 until 1913 by Morris Fuller Benton for ATF. It was one of the most successful advertising sans typefaces ever made. What the Americans called gothic in those days corresponds to the German Grotesk and the British grotesque. Designs close to Franklin Gothic of that era in Germany inlude Basic Commercial and Reform from D. Stempel AG. Later serif typefaces by Benton include Alternate Gothic, Lightline Gothic and News Gothic.
Franklin Gothic is seen in many high-profile situations, from books to billboards. It was featured on the cover of Lady Gaga's The Fame Monster. It is the official typeface of the MOMA (Museum of Modern Art) in New York, and was even the typeface in the PBS series The Electric Company. Franklin Gothic Condensed was used for subtitles in the Star Wars films.
In 1979, under license with ATF, Vic Caruso began work on more weights of Franklin Gothic for ITC. His version adheres closely to the subtle variations in stroke thickness of the original design. As was usual with all ITC designs of that period, it had an enlarged x-height and condensed proportions, and, as a result, it became a standard choice for use in newspapers and advertising. In 1991, David Berlow completed the family for ITC (MyFonts shows 96 styles) by creating compressed and condensed weights. He writes: ITC Franklin Gothic Compressed is designed especially to solve impossibly tight copyfitting problems, while maintaining high legibility standards. ITC Franklin Condensed provides medium weights of narrow proportions.
Digital remakes and variations and versions include Franklin Gothic (URW++), Gothic 744 (Bitstream, later simply renamed Franklin Gothic), Franklin Gothic SG (2016, Elsner & Flake), Franklin Gothic Pro Black Condensed (2011, Red Rooster), and Frankfurt Gothic (Corel).
MyFonts hit list for Franklin Gothic and its descendants. Subpage with the 96 styles of ITC Franklin Gothic by David Berlow, 1991-2008.