Trajan typeface [Carol Twombly]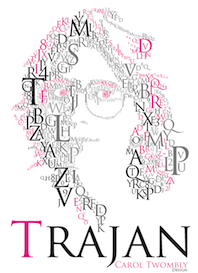 Wikipedia: Trajan is an old style serif typeface designed in 1989 by Carol Twombly for Adobe. The design is based on the letterforms of capitalis monumentalis or Roman square capitals, as used for the inscription at the base of Trajan's Column from which the typeface takes its name. Since the inscription and its writing form manifests in only one case, Trajan is an all-capitals typeface. Instead, small caps are commonly used, and a more complete set of glyphs contained in Trajan Pro (a 2001 update of the original typeface) includes a lower case of small caps. Although Twombly was the first to do a very literal translation of the Trajan inscription into type, a number of interpretations (with added lowercase alphabets) predate Twombly's, particularly Emil Rudolf Weiss' "Weiss" of 1926, Frederic Goudy's 1930 "Goudy Trajan," while Warren Chappell's Trajanus of 1939, while having similar forms for capitals has a markedly medieval lowercase. There are also numerous prominent typefaces that are not revivals, but owe a very clear debt to the Trajan letterforms, most notably Hermann Zapf's 1955 Optima.
We learn also that Trajan is the font used on the Trojan brand of condoms. It is not a surprise, then, to see that it was adopted as the official font of Columbia University, Rice University, the University of Bologna, the University of the District of Columbia, the University of Kansas and the University of Rhode Island. It is also ubiquitous in the movie industry.
John Berry discusses Trajan Pro 3 (a 2011 extension of Twombly's Trajan) and Trajan Sans (1989).
Poster by Jorge Martinez (2013).
EXTERNAL LINKS
Trajan typeface
MyFonts search
Monotype search
Fontspring search
Google search

INTERNAL LINKS
Movie fonts ⦿ Typefaces inspired by the Trajan column in Rome ⦿