Gergely Bogányi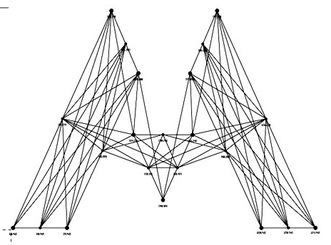 Graphic designer in Budakeszi, Budapest, Hungary, who cofounded Typogravity Studio with Tamas Ilsinszki. Creator of the extreme contrast display typeface Slash Pro (2011), and the multiline prismatic typeface Grand Avant Garde (2011).
In 2012, he designed Lineo Serif (thin geometric face).
In 2013, he created a fantastic set of graph-based experimental capitals called Regenerative. Georabic (2013) is a calligraphic Arabic simulation font completely based on the principles of Arabic font design, i.e., with beginning, medial and end forms for each letter. He writes: Georabic Typface is my diploma work at Hungarian University of Fine Arts / Graphic Design Department. During my Erasmus studies in Istanbul I had the chance to learn a bit of Arabic language and typography and I realized that the logic of Arabic writing could be used for a calligraphic Latin typeface too. I started with calligraphy to find the right way to create the glyphs and the connections.
EXTERNAL LINKS
Gergely Bogányi
Behance page
MyFonts search
Monotype search
Fontspring search
Google search

INTERNAL LINKS
Type designers ⦿ Type designers ⦿ Calligraphic typefaces ⦿ Arabic simulation typefaces ⦿ Type design in Hungary ⦿ Avant Garde typefaces ⦿ Prismatic typefaces ⦿ Experimental type ⦿ Connect-the-dots typefaces ⦿