Maria Doreuli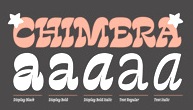 Maria Doreuli (Moscow) earned her Master degree in graphic design from Moscow State University of Printing. During that time she attended Alexander Tarbeev's type design workshop. During 2009-2012 she worked on RIA Novosti's corporate identity projects. Winner at the Letter 2 competition in 2011 with the serif text family William (2011), which was her graduation project. This contemporary interpretation of Caslon also won First Prize in the Cyrillic typeface category at Granshan 2011. William Headline won at New Cyrillic 2012. Finally, in 2016, William was published by Typotheque. It is available in three optical sizes, a Text version with a large x-height for smaller text from 7 to 12pt, a Subhead version for use at 14 to 30 points, and Display version for text larger than 36 points.
In 2011 she was named a designer of the year by the Russian newspaper Akzia. In 2012, Maria started type design studies at the KABK in Den Haag. Her graduation typeface there was the reverse contrast display typeface Chimera (2013). Chimera won an award at TDC 2014. It won the Silver Prize in the Latin category at the Morisawa Type Design Competition 2014.
In 2014, Maria Doreuli, Krista Radoeva, and Elizaveta Rasskazova co-designed Sputnik Display for Sputnik News. This organic sans typeface family covers Latin, and various brands of Cyrillic, including the ones used in Uzbekistan, Tajikistan, Abkhazia and Mongolia.
Speaker at ATypI 2013 in Amsterdam: The contrast between Russian and Bulgarian Cyrillic.
Fit (2017, by David Jonathan Ross and Maria Doreuli)s is a tall black display family that runs from ultra-compressed to very wide. It screams Use me for the Oscars! Fit was first developed as a variable font. It won an award at Granshan 2017.
EXTERNAL LINKS
Maria Doreuli
Behance page
MyFonts search
Monotype search
Fontspring search
Google search

INTERNAL LINKS
Type designers ⦿ Type designers ⦿ Type design in Russia ⦿ Cyrillic type design ⦿ Caslon ⦿