Leon Sloth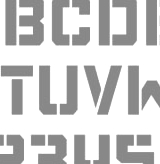 Graphic designer and typographer from Copenhagen who founded the design studio More To Come. His typefaces include Lagen (2007, fat and counterless), Darkcut (2008, like wood cut), Paten (2008, constructivist), and Antiwar (2009, military stencil).
In 2011, they designed Paten (a severe almost-constructivist typeface) and Antiwar (an army stencil face).
In 2012, they created Deadman. In 2014, they designed the rounded black typeface M52 Black.