Estudio Calderon [Felipe Calderón]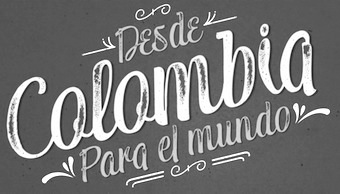 Felipe Calderón Arteaga is a graduate of the Academy of Professional Drawing in Cali, Colombia, who runs Calderon Design and Calderon Estudio Type Foundry. As an illustrator, calligrapher and graphic designer based in Cali, he won an award in the display type category at Tipos Latinos 2012 for Letrista Script (a signage script).
In 2013, he designed the signage script typeface Tulipan, which comes with Broken Caps (+pro in 2014) and several sets of ornaments.
Typefaces from 2014: Risotto Script (a calligraphic signage script with slightly rough edges), Planet Express.
Typefaces from 2015: Trendy (a brush script) and Hollie Script Pro, which won an award in the TDC 2015 Type Design competition. Trendy Script won an award at Tipos Latinos 2016.
Typefaces from 2016: Pistacho (a hand-crafted font family for coffee shops), Ruth Script (a retro brush style signage script family influenced by signs in bars, billiard halls, motels and night clubs).
Typefaces from 2017: Melts Script (based on Colin Brignall's Harlow Solid; followed in 2018 by Melts Script Rough), Saltbush Rough, Saltbush (hand-crafted script/sans pair).
Typefaces from 2018: Bordonaro Script, Bordonaro Spur (influenced by old beer labels and includes some serifs based on Frederic W. Goudy's Copperplate), Bordonaro Script Rounded, Bordonaro Spur Rounded, Fregata Sans (a playful solid and inline sans) and Fregata Script Inline (a rope font).
Typefaces from 2019: Sussan (2019), a handlettered typeface family (Sussan Extras by Jhony Velasco).