Friedel Thomas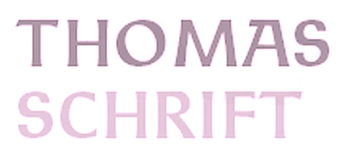 German designer (1895-1956) of Thomas-Schrift (1958, VEB Typoart, a rustic expressionist typeface) and Thomas-Versalien (1958, VEB Typoart). I guess the typefaces were finished by Friedel's angels.
Ralph M. Unger revived the former as Thomasschrift in 2014, and extended it somewhat for modern use.
In 2015, URW++ published Thomas Schrift and Thomas Versalien by Coen Hofmann, two further revivals.