Julius Hui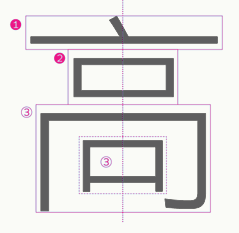 Julius Hui (Chinese name Hon Man Hui) is a type designer in Hong Kong who studied at Hong Kong Polytechnic University in the late 2000s. He worked for some time at the Hong Kong branch of Dalton Maag and at Monotype Hong Kong as type designer. When COVID broke out, he started his own foundry in Hong Kong. He designed these typefaces:
The Chinese font Xin Gothic (2011, VM Type), art directed by Sammy Or.
He entered the Sixth Founder Type Awards for Chinese Typeface Design in 2011 with a Chinese Fangsong style typeface.
A custom typeface for the the Chinese comapny Tencent, done while he worked for Monotype.
Ku Mincho (2021-2022). Ku Mincho indends to return to historical Chinese---Ku Mincho differentiates itself from existing Ming typefaces in design, structure, and proportion by breaking free from the square box that had been imposed on Hanzi for decades (by Japanese foundries that dominated the Chinese type business). Hui's team for Ku Mincho includes his former colleagues at Monotype Hong Kong, Kin Cheung and Sammy Fung. The full set of 15,000 characters will be available in July 2022. Ku Mincho specifically supports traditional Chinese, used in Hong Kong and Taiwan, and for languages like Taiwanese and Hakka. Oryzae Foundry and Klim Type Foundry will be responsible for Japanese and Latin, respectively.
EXTERNAL LINKS
Julius Hui
MyFonts search
Monotype search
Fontspring search
Google search

INTERNAL LINKS
Type design in China ⦿ Hong Kong font scene ⦿ Type designers ⦿ Type designers ⦿ Corporate typefaces ⦿ Type design in Taiwan ⦿ Commercial fonts (small outfits) ⦿