Storm Design [Ricardo Saul Castellanos Pabello]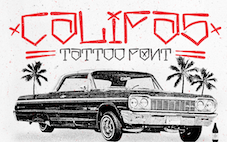 Aka RS Design, or Riders of the Storm Design. Mexican graphic designer, b. 1995, based in Baja California Sur. Creator of Riders Font (2012) and of Barrio Rifa (2012). Storm (2013) is a metal rock or bike gang font. Strange Days (2013) and Fucking Hostile (2014) are a tattooish script fonts.
In 2018, he designed the graffiti fonts Califas and Cholo Letters, the squarish typeface Hustlaz, the tattoo and cholo gang lettering font Mexside, and the tattoo script font Memento Mori. Home page.