Shadz XIII [Rafaela Rolfsen]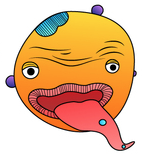 Shadz XIII is Rafaela Rolfsen. Based in Bauru, Brazil, and Falmouth, UK, she made the bilined typeface Black Coma (2012), the hexagonal typeface Tumma (2012), the alchemic typeface Phy (2012) and the fun Monster Type (2012, vector format).
In 2013, Rafaela designed TUA (hexagonal typeface: free download).