August Heffner's list of required typefaces [August Heffner]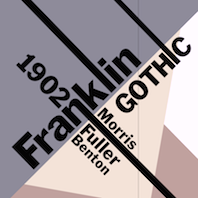 Old Style (renaissance 15th and 16th centuries): Garamond (1617) (v), Caslon (1722), Bembo (1495), Janson (1690), Palatino (1950), Sabon (1964), Centaur (1916).
Transitional (baroque 17th century) (neo classical 18th century): Baskerville (1757), Times Roman (1931) (v), Scotch (1810), Electra (1935), Bookman.
Modern (romantic 18th and 19th century): Bodoni (1780) (v), Didot (1784), Walbaum (1800).
Egyptian/Slab: Century Schoolbook (1890) (v), Clarendon (1845), Cheltenham (1896), Lubalin Graph (1974), Melior.
Sans Serif (realist 19th and 20th centuries)(Geometric Modernist 20th century): Helvetica (1957) (v), Univers (1957), Gill Sans (1928), Futura (1927) (v), Avant Garde (1967), Optima, Bell Centennial (1978), News Gothic (1908), Folio, Franklin Gothic, Adzidenz Grotesk, Frutiger, Trade Gothic.
Digital Typefaces (Postmodern/Vernacular): Tobias Frere Jones, Interstate, 1993-95 (Font Bureau), Tobias Frere Jones, Knockout (Font Bureau), Tobias Frere Jones and Jesse Ragan, Gotham, 2000-01 (HFJ), Erik Spiekermann, Meta, 1984-991 (Font Shop).
Digital Typefaces (Classical/Historical Revival): Jonathan Hoefler, HTF Didot, 1991 (Hoefler Type Foundry), Matthew Carter, Galliard, 1978, Matthew Carter, Big Caslon, 1994, Matthew Carter, Mantinia, 1993.
Digital Typefaces (Electronic Communications): Tobias Frere Jones and Jonathan Hoefler Retina, 2000, Tobias Frere Jones and Jonathan Hoefler, Mercury, 1999, Zuzana Licko, Lo-Res, 1985 (Emigre), Matthew Carter, Miller, 1997 (The Guardian), Albert-Jan Pool, FF DIN, 1995 (Font Shop).
Note: (v) refers to Massimo Vignelli's list of the only typefaces you will ever need.
EXTERNAL LINKS
August Heffner's list of required typefaces
MyFonts search
Monotype search
Fontspring search
Google search

INTERNAL LINKS
Choice of fonts ⦿ Eric Gill and his typefaces ⦿