Time Peace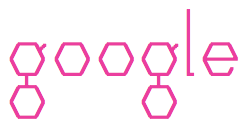 FontStructor who made the horizontally-striped typeface Strobes (2012), Simplicity (2012), Smashel (2012), Extora (2012, textured face), Dead Stirrup (2012), Checker (2012), Slice (2012), and Tesla (2012, based on the logo of the electrical company Tesla).
In 2013, we find Hearty (Valenttine's Day font), Anubis (retro futurism), Tockice (connect-the-dots), Swirl, Teeny Dots (dot matrix face), Specs (arrowed letters), Atlas Regul (art deco marquee face), Smash (dot matrix face), Steam (steam punk, mechanical), Apricot (dot matrix), Peach, Koverkav (tall connected script), Zastava (art deco), Syncopation (avant garde), Centrivid, Time Script, Grey Sans (a textured sans), Seriphagy, Mona, Lightheart (a Broadway style art deco face), Lower (tall ascenders), 2Time, DotoMagy (dot matrix face), Finolin, Remaster (horizontal stripes), Whimsy, Procol (vertical striping), Ceremonio (vertical striping), Island, and Quindle. In March 2013, he published Circles and wrote I finally nailed a perfect circle, which many consider the holy grail over at FontStruct. That is to say, the imperfections in the circle are only visible at large point sizes---quite an achievement.
Typefaces from 2014: Cybertron, Puzzler, Just Peachy (blackboard bold), Bubble Pop, Pointy (arrowed face), Gypsy Train (bilined, frilly), Mad Hatter (card font), Origami, Pointers (hexagonal), Angled (deco), Owlarium, Blossum (floral), Jarvis (wooden plank font), Cocktail Bar, Circuit Breaker, Every Good Boy, Circus Comes to Towne (sic) (circus font), Fruit Stripes (art deco, striped).
Typefaces from 2015: Cogsworth (connect-the-dots), Neomorph (techno).
EXTERNAL LINKS
Time Peace
MyFonts search
Monotype search
Fontspring search
Google search

INTERNAL LINKS
FontStruct fonts ⦿ Textured typefaces ⦿ Pixel/bitmap fonts ⦿ Circle-themed typefaces ⦿ Art deco typefaces ⦿ Textured typefaces ⦿ Avant Garde typefaces ⦿ Typefaces with arrows ⦿ Connect-the-dots typefaces ⦿ Valentine's Day Fonts ⦿ Western fonts ⦿ Circuit board typefaces ⦿ Floriated initial caps ⦿ Hexagonal typefaces ⦿ Typefaces related to origami ⦿ Playing card fonts ⦿ Wood plank typefaces ⦿ Blackboard type ⦿ Steampunk typefaces ⦿ Circus fonts ⦿