Fontbilisi (was: Germán León) [Germán León]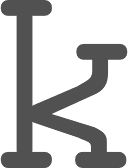 Fontbilisi was established by German Leon (b. Madrid, Spain) in 2013. For a while, he was located in Tbilisi, Georgia. Since 2014, he is in Lima, Peru. In 2017, his MyFonts page places his origins in Ukraine. He explains: He was born in Madrid, but crisis and love brought him to Tbilisi, Georgia, from where he is currently designing.
His first typeface is the quaint Latin slab serif Miraflores (2012). In 2013, he published GL Tetuan (a slab serif that covers Latin, Cyrillic, Georgian and Greek) and GL Benicassim (a sans for Latin and Cyrillic). The foundry Germán León was renamed Fontbilisi that same year.
In 2017, Leon published GL Parla (a decorative, even playful, typeface derived from didones). Linkedin link.