Marianna Orsho [Marijana Orsolic]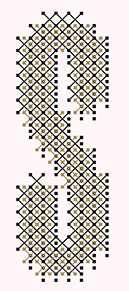 Marianna Orsho (or Marijana Orsolic) is an Australian / Serbian graphic and type designer, b. 1987. Classically trained as a graphic artist, she completed her Masters Degree in Type Design and 2D Animation at the University of Arts in Belgrade. During TypeClinic 5 in 2012 in Trenta, Slovenia, she created the multiple master humanist sans typeface family Nioki and Nioki Italic, both for Latin and Cyrillic. Free download. Other typefaces by her include Albi (2010) and Eta (2011).
Now located in Sydney, Australia, she created Kamilitza (2014, a layered, condensed, all-caps cross stitch display typeface; free demo) and Globster (2014, a Treefrog-style typeface for Latin and Cyrillic).
EXTERNAL LINKS
Marianna Orsho
Behance page
MyFonts search
Monotype search
Fontspring search
Google search

INTERNAL LINKS
Type designers ⦿ Type designers ⦿ Type in Australia ⦿ The Serbian type scene ⦿ Cyrillic type design ⦿ Typefaces for stitching ⦿ Treefrog typefaces ⦿