Berthold Standard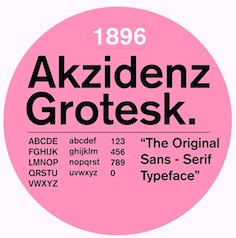 Berthold Standard BQ was explained by Fred Nader as follows, ca. 2005: The latest example of the Hunts' attitude towards their customer base and their intelligence is in the so called 'new' release of the Standard set. To call this a 'new' release and to issue it and charge prior customers money for it is insulting at best, not to mention a knockoff of their own library. Standard was the name Berthold used for Akzidenz Grotesk when it was marketed as metal type in english speaking countries. There were no other differences. In this case, they have added a Euro symbol and changed the name, so that users will hopefully be lulled into paying $249 for what amounts to an added glyph that every other major foundry offers at no charge. For some, this is an indicator of how low the new Berthold will stoop for a dollar.
Update: Each style now sells for 350 dollars, or 3500 dollars for the ten-weight collection.
Credit for some images below: Danielle West.
EXTERNAL LINKS
Berthold Standard
MyFonts search
Monotype search
Fontspring search
Google search

INTERNAL LINKS
David and Goliath ⦿ Akzidenz Grotesk ⦿