ZeCraft [Jean-François Porchez]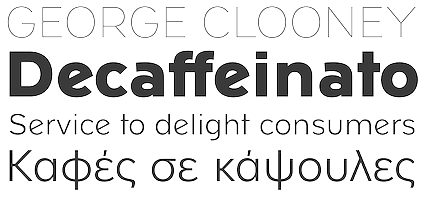 ZeCraft (Clamart, France) was founded by Jean-François Porchez as a vehicle for bespoke typefaces. An outgrowth of Typofonderie Porchez, it has created fonts for Arjowiggins, the Baltimore Sun, Beyoncé Knowles, Le Monde, Louis Vuitton, Public Transport in Paris (RATP) and Yves Saint Laurent Beauté. Some samples:
Retiro was specially designed for the Madriz magazine in Madrid. Based on the stereotypical Didot masthead of women's magazines like Tatler, L'Officiel and Vogue, and named after a park in Madrid, Retiro is a daring interpretation of Spanish typography. Retiro is a Castilian and Andalusian vernacular didone. Started in 2006, it became a retail font at Typofonderie in 2015. It won a Granshan award in 2012 and a certificate of excellence at the Type Directors Club 2010 competition.
Parisine is a large family used for maps and external communication in the Parisian train network, the RATP. It comprises the dot matrix family Parisine Girouette, the 4-style sans family Parisine Office, and the 12-style sans family Parisine Plus. This is Porchez's main sans workhorse family, and was being updated and extended almost annually between 1998 and 2016. Currently it has 32 fonts, including Compressed and Narrow subfamilies. Porchez: It can be considered as a more human alternative to the industrial-mechanical DIN.
Déreon was custom made for Beyoncé.
Henderson BCG was created for the Boston Consulting Group.
Vuitton Persona and Vuitton Malletier are layered typefaces done for Vuitton. This was completed by adding Vuitton Cabinet d'Ecriture.
AW Conqueror was done for Arjowiggins.
Singulier is a beautiful geometric sans family created for Yves Saint Laurent.
The Costa typeface family began life as a corporate typeface for Costa Crociere, an Italian cruise company which still uses it. Costa is based on ligatured logotype Costa designed by Landor Associates. In 2000, Costa won a TDC award for bespoke typefaces.
Bienvenue is an exclusive corporate typeface designed for France Telecom in conjunction with Landor Associates, which was in charge of a new corporate identity.
Endless Story is an exclusive corporate typeface designed in 2007 by Jean-François Porchez for the Russian Vozrast group. It was inspired by Eric Gill's Perpetua, and developed in conjunction with Aaron Levin and Stories Design. It covers Latin and Cyrillic.
Alpha Poste is custom sans typeface designed by Jean-François Porchez in January 2005 for the identity and logotype of La Banque Postale launched in January 2006 in France as a subdivision of Groupe La Poste.
Macif is an all caps exclusive bespoke typeface designed by Jean-François Porchez in April 2006 for the new identity and logotype of the insurance company Macif launched in 2006 by BETC Design group.
Lion is a corporate typeface designed in 1999 by Jean-François Porchez for Automobiles Peugeot. The bespoke typeface, developed in conjunction with EuroRSCG Design, Paris, is used by Peugeot for all the brand names used on their cars.
It is possible to work for two enemies. After Peugeot in 1999, JFP did a custom typeface for its arch-enemy Renault, called Renault Identité in 2004. This was done in cooperation wirth Eric de Berranger.
Tron Uprising is a bespoke inline all caps typeface designed in 2012 for the American animated science fiction television series for excluse use by Walt Disney Company.
Script Fleury Michon (2013) is a bespoke typeface done for the ready-meals products created by Fleury Michon (France & Canada).
Hinduja (2013) is a wide all caps custom font for the Indian conglomerate Hinduja.
Nespresso (2014) for the Nespresso brand. An elegant art deco geometric monowidth sans family, wasted on poor coffee---especially the Nespresso capsules are quite bad, but marketing and good brand design does miracles.
GL Bader (2015) is rooted in the long history of the Galeries Lafayette which was founded in 1894 by Théophile Bader and Alphonse Kahn in Paris. This neo-grotesque sans serif family, along with GL Kahn, accompanies the new visual identity and communication campaign launched in September 2015. The design of GL Bader is influenced by the brand created by Peter Knapp and Jean Widmer in 1958. Accompanied by GL Kahn.
For the Boston Consulting Group, ZeCraft developed BCG Henderson.
TypeCon Counter for TypeCon 2017 in Boston. Creative director: Bobby C. Martin, extremely contrasted stencil didone typeface designed by Zecraft on the basis of AW Conqueror Didot.
EXTERNAL LINKS
ZeCraft


[Designer info]
Behance page
MyFonts search
Monotype search
Fontspring search
Google search

INTERNAL LINKS
Type design in France ⦿ Commercial fonts (small outfits) ⦿ Corporate typefaces ⦿ Fashion mag typefaces ⦿ Modern style [Bodoni, Didot, Walbaum, Thorowgood, Computer Modern, etc.] ⦿ Cyrillic type design ⦿ Lapidary typefaces ⦿ Type designers ⦿ Type designers ⦿ Art deco typefaces ⦿ Eric Gill and his typefaces ⦿ Stencil fonts ⦿