Blaze Type Foundry (was: Adèle Type Foundry) [Matthieu Salvaggio]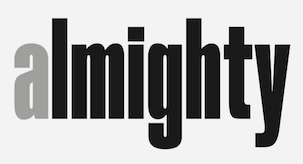 Lyon, France-based designer founded first Adèle Type Foundry and in 2018 renamed it Blaze Type Foundry. Creator of these typefaces:
In 2021, Tim Vanhille, Léon Hugues and Matthieu Salvaggio co-designed the blackletter font Emeritus at Blaze Type.
Area (2020). Area is a variable typeface family of 88 grotesque fonts. Interestingly, all styles have an inktrapped version.
Inferi (2019). Inspired by garaldes.
Oroban (2018). A high-contrast text typeface in six styles, Oroban Masuria & Italic, Oroban Hermonthica & Italic and Oroban Elegans & Italic. The name is unrelated to Hungary's despot, Orban.
AT Apoc (2017-2018), short for AT Apocalypse. A text typeface that exhibits angst in the face of a bellicose American crackpot. In 2020, varialble and Cyrillic options were added.
AT Surt (2017). A 54-style Scandinavian sans typeface family, expanded in 2018. In Normal, Expanded and Extended widths.
Scriptures Memoriam (2017). A didone.
Scriptures Keops (2017). A didone with angular modifications inspired by blackletter type.
Arges (2017). A very condensed American headline sans, updated in 2019.
Osmose (2017). A "neoclassical grotesk". He writes that all of his licenses have been sold. Huh?
AT Global (2017). A sans.
Vuit Grotesk (2016). Not part of the Adele collection.
S1 (2013). A sans typeface designed during his studies at L'École européenne supérieure d'art de Bretagne (2012-2014). Not part of the Adele collection.
AT Inexpugnable. A free font that was promised for 2017.
AT Goliath. A free font that was promised for 2017.
Behance link. I Love Typography link. Cargocollective link. Type Network link.
EXTERNAL LINKS
Blaze Type Foundry (was: Adèle Type Foundry)
Behance page
MyFonts search
Monotype search
Fontspring search
Google search

INTERNAL LINKS
Type designers ⦿ Type designers ⦿ Commercial fonts (small outfits) ⦿ Type design in France ⦿ Modern style [Bodoni, Didot, Walbaum, Thorowgood, Computer Modern, etc.] ⦿ Garalde or Garamond typefaces ⦿ Variable fonts ⦿ Cyrillic type design ⦿ Blackletter fonts ⦿