De La Piedra A La Nave (or: Medialab Prado, or: Manufactura Independiente)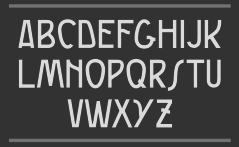 Open source font project. Their first fonts include Serreria Sobre and Serreria Extravagante (2012).
Open Font Library link. Developed in 2012 during a workshop, we read from Ana Carvalho & Ricardo Lafuente (Manufactura Independente) in a piece entitled From Stone to Spaceship, Collaborative type design: The future home of Medialab-Prado, Serrería Belga (Belgian Saw Mill) has its facades decorated with beautiful typography. Taking on the challenge set by Medialab-Prado to liberate these letters from their stone prison and release them to the world, we hosted a three day workshop in Madrid. The premise was to collaboratively design a font, using a fully libre workflow and with no pre-requisites for participation---everyone was invited to join in. We were thrilled to receive this invitation from Medialab-Prado to come to Madrid and work together in a font revival inspired by a building with a rich historical background. The reception to the call was impressive and two days later we closed it having enlisted a total of thirty participants from different backgrounds and coming from different cities in Spain.
At Open Font Library, one can find the free fonts Douar Outline (2011), Sisperdotsize (2014, pixel font), Deuperset (2014, pixel font) and Setperset (2014, pixel font).
EXTERNAL LINKS
De La Piedra A La Nave (or: Medialab Prado, or: Manufactura Independiente)
MyFonts search
Monotype search
Fontspring search
Google search

INTERNAL LINKS
Type designers ⦿ Type designers ⦿ Sites with only a few free fonts ⦿ The Spanish type scene ⦿ Pixel/bitmap fonts ⦿