J. G. Francke Nachfolger [Albert Wilhelm Kafemann]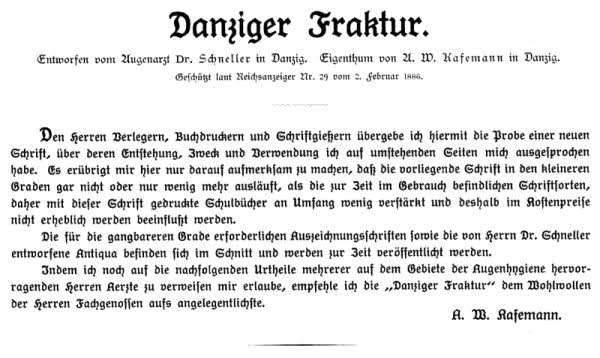 The type foundry J. G. Francke in Berlin was purchased in 1872 by Albert Wilhelm Kafemann and moved to Danzig and renamed Firma J. G. Francke Nachfolger. In 1872, Kafemann also bought the type foundry Christoph Richter which was based in Köln. On October 1, 1875, Franz Otto Claus---an employee at J. G. Schelter & Giesecke in Leipzig---became a partner in Kafemann's foundry. In 1882, Franz Otto Claus continued the foundry by himself still as J. G. Francke Nachfolger. This foundry produced Danziger Fraktur in 1886. This typeface was designed by eye doctor Dr. Schneller in Danzig and produced (and owned) by Kafemann. In 1895, Otto Claus, the son of Franz Otto, became a partner. The latter died in 1905. Otto Claus himself sold the foundry in 1908 to John Seyfert in Danzig. Seyfert in turn sold the company in 1912 to the company Otto Tech in Berlin. That company was partly absorbed by H. Berthold AG and partly by Emil Gursch in 1917.
Footnote: Danziger Fraktur was digitally revived by Gerhard Helzel.
EXTERNAL LINKS
MyFonts search
Monotype search
Fontspring search
Google search

INTERNAL LINKS
German type scene ⦿ Extinct 20th century foundries ⦿ Blackletter fonts ⦿ Type designers ⦿ Type designers ⦿ Foundries of the 19th century ⦿