Futura Display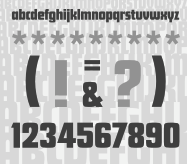 A typeface designed by Paul Renner in 1932 (Bauer, Neufville, Berthold).
Derived typefaces include Futura Display by URW, Futura Display SB (2004, Scangraphic), Futura Display SH (2004, Scangraphic), Futura Display EF (Elsner & Flake), Deko Display Serial (2010, Softmaker), Function Display (Infinitype), S842 Deco (Softmaker), Steile Futura, Topic, Bauer Topic. Turista Gorda NF (2009, Nick Curtis) is based on Baltimore Type Foundry's Airport Tourist which in turn used ideas from Renner's 1932 typeface Futura Display.
Airport Gothic is a related metal face. Mc McGrew on Airport Gothic: Most of this series is the first American copy of Futura, which originated in Germany in 1927, designed by Paul Renner for Bauer. One source says it was cut from original Futura drawings, smuggled out of that country, but it seems more likely that matrices were made by electrotyping the imported type. An extrabold weight, Airport Black, was cut by Baltimore about 1943; information on this cutting is scarce and contradictory- one account says it was designed by Bill Stremic or Bill Blakefield, another that it was designed by Carl Hupie (or Hooper), and cut by Herman Schnoor. There is also Airport Black Condensed Title and Airport Broad. The latter is a modification of Airport Black, cut 50 percent wider on the pantagraph by Herman Schnoor. Baltimore later cast some of its Airport series from Monotype Twentieth Century matrices, and in a few cases listed both series. Airport Relief, Baltimore 299, is English Monotype Gill Sans Cameo Ruled, while Airport Tourist, Baltimore 602, is Futura Display, cast from electrotype mats of the German foundry type.
Hess Neobold was designed by Sol Hess for Monotype in 1934. Mac McGrew: It is a narrow, bold, and very squarish gothic with small serifs, designed for attention-getting display in a style of the day, but never made in more than one size. Compare Airport Tourist (Futura Display), Othello.
EXTERNAL LINKS
MyFonts search
Monotype search
Fontspring search
Google search

INTERNAL LINKS
Futura Display
Typography ⦿ Eric Gill and his typefaces ⦿