SciType [Hans van Maanen]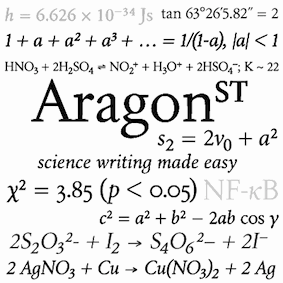 SciType is a flexible combination of oft-ignored letterforms and innovative OpenType programming that can be incoporated into existing text fonts in order for them to function seamlessly when including common science formulas and equations in regular text. The idea for SciType is the logical brainchild of Hans van Maanen, whose background as both science writer and type designer provided the perfect nucleus for such a synthesis. Hans had been publishing his fonts with Canada Type since 2007, so he approached Patrick Griffin with his idea and the bulk of the initial work. Together, Hans and Patrick expanded the idea and turned it into a functional reality. While not a substitute for full-fledged systems like TeX, it is a useful tool for lightweight use, for simple scientific writing.
Hans van Maanen's Aragon ST is the first published SciType font. It was released in June of 2013. Canada Type plans to release many more ST fonts in the future.
At ATypI 2013 in Amsterdam, Hans van Maanen explained SciType.