Emma Grey: Newspaper and magazine typefaces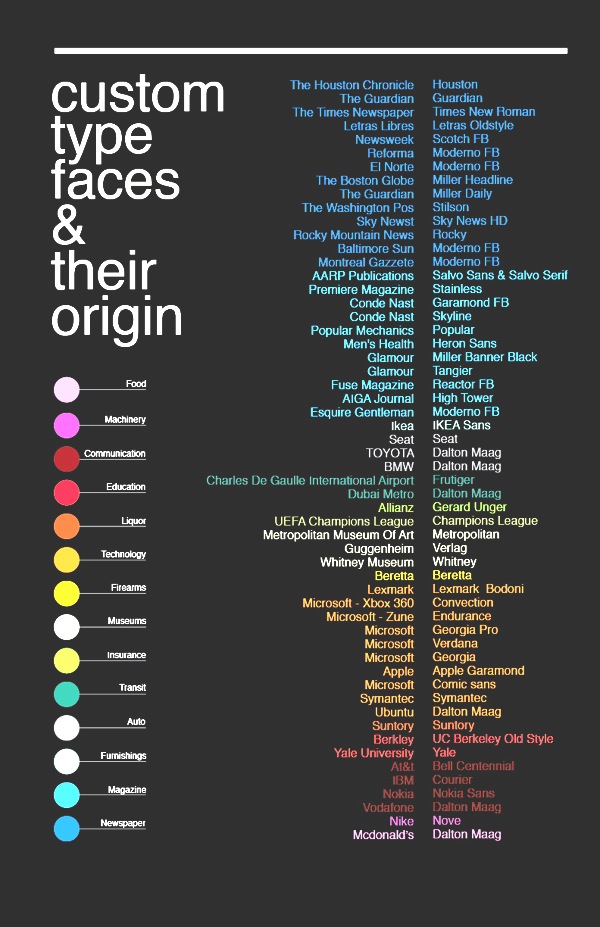 Emma Grey (Brooklyn, NY) surveys typeface choices for various media. She compiled he following lists:
Newspapers:

Moderno FB: Used by Reforma, El Norte, Baltimore Sun, Montreal Gazette.
Houston: Used by the Houston Chronicle.
Guardian: Used by The Guardian.
Letras Oldstyle: Used by Letras Libres.
Miller Headline: The Boston Globe.
Miller Daily: Used by The Guardian.
Stilson: Used by The Washington Post.
Sky News HD: Used by Sky News.
Rocky: For Rocky Mountain News.

Magazines:

Moderno FB: Used by Esquire Gentleman.
Salvo Sams and Serif: Used by AARP Publications.
Stainless: See Premiere Magazine.
Garamond FB and Skyline: Used by Conde Nast.
Popular: Used by Popular Mechanics.
Heron Sans: Used by Men's Health.
Tangier and Miller Banner Black: Used by Glamour.
Reactor FB: Used by Fuse Magazine.
High Tower Used by AIGA Journal.
EXTERNAL LINKS
Emma Grey: Newspaper and magazine typefaces
Behance page
MyFonts search
Monotype search
Fontspring search
Google search

INTERNAL LINKS
Choice of fonts ⦿ Fashion mag typefaces ⦿ Type scene in New York ⦿