ESAL: Ecole Supérieure d'Art de Lorraine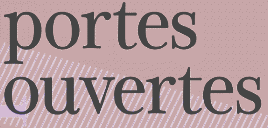 ESAL is the Ecole Supérieure d'Art de Lorraine in Metz. One can study type design there. The active group has established a site with some free fonts made by the students. The free typefaces posted in 2013 include Artemis (by Diane Rohn, 2012), Boom (by Cécile Etienne, 2012), Crypt (by Aude Schmittheisler, 2012: a squarish stencil face), Effilé (2012, by Valentin Mirouf), Escape (2012, by Estelle Bizet: a straight-edged typeface), Geomhotic (2012, by Isaline Rivery), Jyk (2012, by Jung Yoon Kim: straight-edged), Kazan (2012, a prismatic typeface by Eric Chapuis), Misenpli (2012, by Céline Kriebs: origami typeface), Morse (2012, a Morse-based typeface by Romuals Kabala), ODR (2012, a modular typeface by Audrey Pereira).
The text family Messine (2012) was created as a cooperative project in workshops at ESAL led by Alejandro Lo Celso and Jérôme Knebusch. Contributors were Céline Kriebs, Romain Gamba, Bernard Gissinger, Aude Schmittheisler, Gaía Fyot, Eric Chapuis, Francis Ramel, Audrey Perreira, Fanny Woimant and Isaline Rivery. Image of Messine Titrage. Image of Messine Quotidienne. Facebook page. Their seminar series is called Let's Type.
EXTERNAL LINKS
ESAL: Ecole Supérieure d'Art de Lorraine
MyFonts search
Monotype search
Fontspring search
Google search

INTERNAL LINKS
Studying type design ⦿ Type design in France ⦿ Sites with only a few free fonts ⦿ Stencil fonts ⦿ Experimental type ⦿ Prismatic typefaces ⦿ Typefaces related to origami ⦿