Robert Wilson [Robert M. Wilson]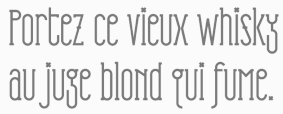 Typespec is a type foundry in Epsom, England, est. in 2011 by Robert Wilson (b. Brighton, 1984), a graphic designer based in London. Creator of HorseFace (2010, a mini-slabbed supergeometric typeface with didone roots), Block Face (2009, a free techno family).
Wilson went commercial in 2009, and started selling his fonts via MyFonts: Radium (2009) is a modular geometric typeface family---is this one of the first FontStruct fonts to be sold for money? Berfa (2011) is an ultra-black typeface.