Vocal Type Co (or: Studio Seals) [Tré Seals]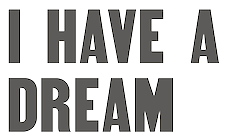 During his studies at Stevenson University in Washington, DC, Tré Seals (Baltimore, MD) created the Kesura bitmap typeface (2013), the sheared techno typeface Seized (2013), and the free vector format ribbon typeface Unveil (2013). In 2014, Tre Seals designed the vector font Mixed Media.
In 2015, he created a lower case stencil font for Wink.
In 2016, he published a few socially responsible typefaces and set up the activist type foundry Vocal Type Co. Early activist typefaces by Tré Seals include Draft (based on a banner carried by a group of students marching against conscription (1972)), Mom's Stencil (inspired by the image of the Civil Rights Movement of the 1960s, in which a child carries a sign at Jefferson Bank and Trust Co. in a demonstration against alleged discrimination in hiring practices at the bank in St. Louis on Aug. 31, 1963), and Martin (a unique sans serif typeface based on the placards carried by followers of Dr. Martin Luther King Jr. during the Memphis Sanitation Strike of 1968).
Washington (2016) and Bayard (2018) are civil rights era sans-serif fonts, inspired by the-hand painted advertisements created for the momentous March on Washington in 1963.
Typefaces from 2017: S Thing (a display family based on various condensed S's), VTC James (a stencil font family inspired by signs carried during one of the demonstrations that led to Title VII of the Civil Rights Act).
Typefaces from 2018: VTC Eva (Duarte, Peron, Maria) (inspired by banners carried during a 1957 women's demonstration in Buenos Aires in front of the National Congress By Law For Universal Suffrage), VTC Du Bois (based on infographics by William Edward Burghardt Du Bois, an American sociologist, historian, civil rights activist, Pan-Africanist, author, writer, and editor. After completing graduate work at the University of Berlin and Harvard, where he was the first African American to earn a doctorate, he became a professor of history, sociology, and economics at Atlanta University).
Typefaces from 2019: VTC Ruben (inspired by journalist Ruben Salazar and remnants of the 1970 National Chicano Moratorium), VTC Ruby, VTC Marsha Bold (inspired by the vertical sign that once hung outside of Stonewall, and named after Marsha P. Johnson, an African-American transgender woman from New Jersey, whose activism in the 1960's and 70's made her one of the most prominent figures in the Stonewall uprising of 1969).
Typefaces from 2020: Carrie (inspired by the October 23, 1915, march by 25,000 women up Fifth Avenue in New York City to advocate for women's suffrage), Broome (a bespoke typeface for Umber Magazine), The Neue Black (a free gaspipe font based on the signage of Martin Luther King Jr's and the Southern Christian Leadership Conference (SCLC) Chicago Freedom Movement).
Typefaces from 2021: VTC Spike (a custom typeface for Spike Lee's book, Spike).
Behance link. Older Behance link. Creative Market link. Seals Studio. Youtube video by Naresh Ramchandani on Tré Seals (2021).