EK Type [Sarang Kulkarni]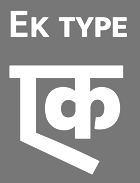 Type design collective in India, est. 2013, managed by Sarang Kulkarni (b. 1980) from Mumbai. Sarang studied at the Sir J J Institute of Applied Art in Mumbai, class of 2002. He worked with R.K. Joshi at the National Centre for Software Technology and Design Temple in 2002. In that same year, he assisted R.K. Joshi with the design of the Jana Gurmukhi typeface. In 2008 and 2009, he created 11 Indic typefaces for Vodafone India. In 2009-2010, he created an additional eight typefaces for Virgin Mobile India. Kulkarni also runs White Crow Designs.
Typefaces at Ek Type from 2011 by Hanif Kureshi include Painter Umesh, Painter Kafeel, and Painter Suhail.
In 2013, Girish Dalvi and Yashodeep Gholap co-designed Ek Devanagari at Ek Type for Hindi, Marathi, Sanskrit, Konkani and Nepali. It is a contemporary, humanist, monolinear typeface available in seven weights. Its companion, also designed by them, is the humanist sans typeface family Ek Latin (2013).
Designer of Modak (2013, Ek Type), a Latin / Devanagari bubblegum typeface that was published in the Google Web Font collection in 2015. Modak Devanagari was designed by Sarang Kulkarni and Maithili Shingre and Modak Latin by Noopur Datye with support from Girish Dalvi and Pradnya Naik. Github link. Another Github link for Modak.
In 2012, he designed Star Jalsha, a Bengali television screen font for Star India Pvt Ltd.
In 2016, Ek Type designed the free Latin / Devanagari / Gujarati font Mukta Vaani. More precisely, it was designed by Noopur Datye and Pallavi Karambelkar with support from Sarang Kulkarni and Maithili Shingre. Google Fonts link. Github link.
In 2017, EK Type released Jaini and Jaini Purva designed by Girish Dalvi and Maithili Shingre: Jaini is a devaagari typeface based on the calligraphic style of the Jain Kalpasutra manuscripts. The design of this font is based on the 1503 Kalpasutra manuscript.
In 2020, EK Type published the devanagari typeface Gotu at Google Fonts. Niranjan collected these EK fonts:
Mukta (Girish Dalvi, Yashodeep Gholap)
Baloo (Sarang Kulkarni)
Modak (Sarang Kulkarni, Maithili Shingre)
Jaini (Girish Dalvi, Maithili Shingre)
Behance link. White Crow Designs link [White Crow was established in 2005 in Mumbai by Sarang Kulkarni]. Typophile link. Behance link. White Crow Designs. Fontsquirrel link. Github link. Fontsquirrel link.