Very Cool Studio [Kyle Wayne Benson]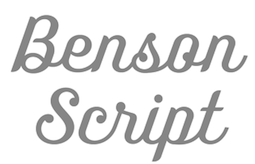 Kyle Wayne Benson (b. 1988, Texas) describes himself as an affable graphic and type designer. He has his own commercial foundry, also called Kyle Wayne Benson, which specializes in signage type. It is located in Orem, UT. Some time later, he moved to Oakland, CA and set up Very Cool Studio. Future Fonts link.
Creator in 2013 of Benson Script (with three contrast levels, from didone to monoline), the octagonal angular typefaces Millie and Truth, and of Clayton, Red Benny, Tide's In, Tide Sans (the surf-inspired humanist with a humorous selection of weight names ranging from Lil Bunny, to Dudette, Bunny, Mondo, Kahuna and Dude), Tide Sans Condensed, and Farmer's Co-Op (a vernacular sans with wood type influences).
Typefaces from 2014: Jeames (a high-contrast decorative typeface with vintage serifs), Maritime Champion, Maritime Champion Stencil, Good News Sans (a set of 18 display sans typefaces, mostly for titling or short pieces), Kansas Casual (a sign painting font), Maritime Champion (inline typeface), National Champion (octagonal athletic lettering family).
Typefaces from 2015: Qualtrics.
Typefaces from 2018: Gooper (a take on Cooper Black; at Future Fonts).
Typefaces from 2019: Bruphy (a variable font modeled after hand-painted brush lettering and released at Future Fonts).